Meet the Grilled Jawn family
Located in South Jersey / Philadelphia area, the Grilled Jawn site is a family affair. We love spending time together, cooking, grilling, and smoking delicious meals, all while enjoying some music, lots of laughs, and a beverage or two.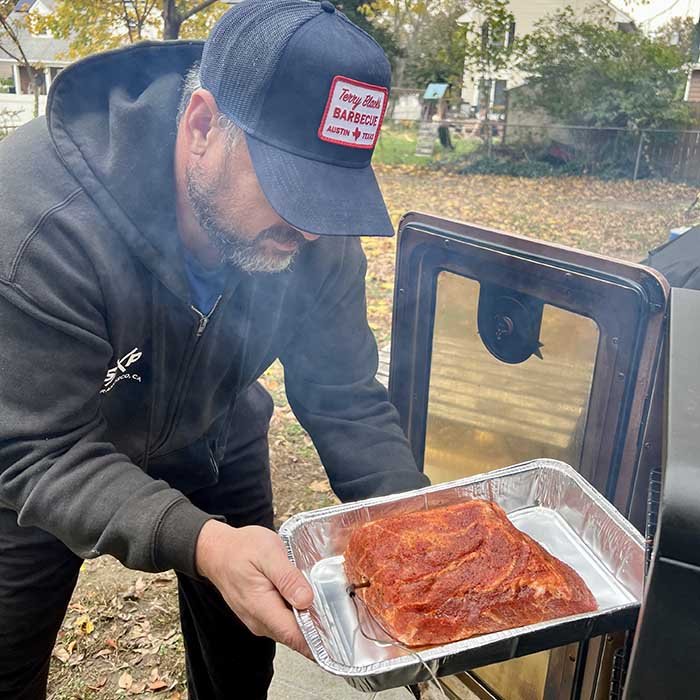 Greg
Alli
Cleo
Grilled Jawn Q&A
How long have you guys been doing The Grilled Jawn thing?

It started as a way to separate our personal Instagram accounts from more cooking centric content. So, if we had to guess I would date it back to April 2020.
That dog is cute — what breed is she?

Cleo is a Pharoah Hound / Shepherd mix. 100% energy and our best buddy.
What are your favorite things to cook?

As of right now we really enjoyed Beer Can Chicken and 3 2 1 Ribs. But, really we enjoy everything that comes off the grill and our smoker.
South Jersey / Philly hmmm…Eagles fans?

Let's just politely say, it's a household divided. She loves her 'Birds, and Greg is a Giants fan.
Why the Pit Boss Vertical Smoker?

We looked at two real factors when it came to which smoker wanted to add to the yard. Price/Value and Ease of Use/Space. The Pit Boss Copperhead Vertical Smoker was the right call for everything we wanted.
What the deal with the site? Do you make money?

The site started as we kept producing more and more content and food. We want Grilled Jawn to be an easy resource for no-nonsense BBQ recipes etc. (Personally, we dislike the sites that have a novel for a recipe backstory and drones on and on about the magical fairies that hand-picked all the ingredients.)

This site has affiliate links to products we use and recommend. If you should click on a link, and make a purchase we get a small commission. So, mostly, no we do not make money.